Words matter.
As a parent of a child on the autism spectrum, words matter the most.
That's why this year in April there has been a shift in how we can advocate for better representation, understanding, and acceptance of the autistic community and their families. Previously April has been known to be Autism "Awareness" Month where the primary focus was empowering people with autism and their families. Well, in 2021 the autism community is calling on all of us to be better and shifting from awareness to acceptance.
April is now known as Autism Acceptance Month.
This change aims to emphasize the need for the public to fully accept, integrate, and include those with autism. It's about making life accessible for all persons via education, employment, housing, healthcare, and services. Unfortunately there are a number of systemic barriers to the autistic community and this month simply highlights the areas of need and ways people like you and me can begin to alter the perception of autism.
As a parent raising a child with autism spectrum disorder (ASD) it's been an ongoing lesson in adaptive parenting and proper advocacy. A big part of that is our own education and seeking new ways to be better in how we help our son but also in how we share about him to others. It's ever-changing and therefore I'm happy to share what I know, what I've learned, and ways to easily support this mission of greater acceptance and opportunity.
Neurodiversity and what that means
This year you'll probably be seeing or hearing this word a lot: neurodiversity.
It's a word that means a great deal to parents like us because it represents the inclusivity we so much desire for our children. It represents the diversity that exists within the autism spectrum and that it isn't linear or easily definable. You may also notice that along with neurodiversity, the symbol for autism acceptance is shifting from the puzzle piece to a rainbow infinity symbol. It's important we all begin using this new symbol and get comfortable with talking about neurodiversity as the new normal.
What to remember about autism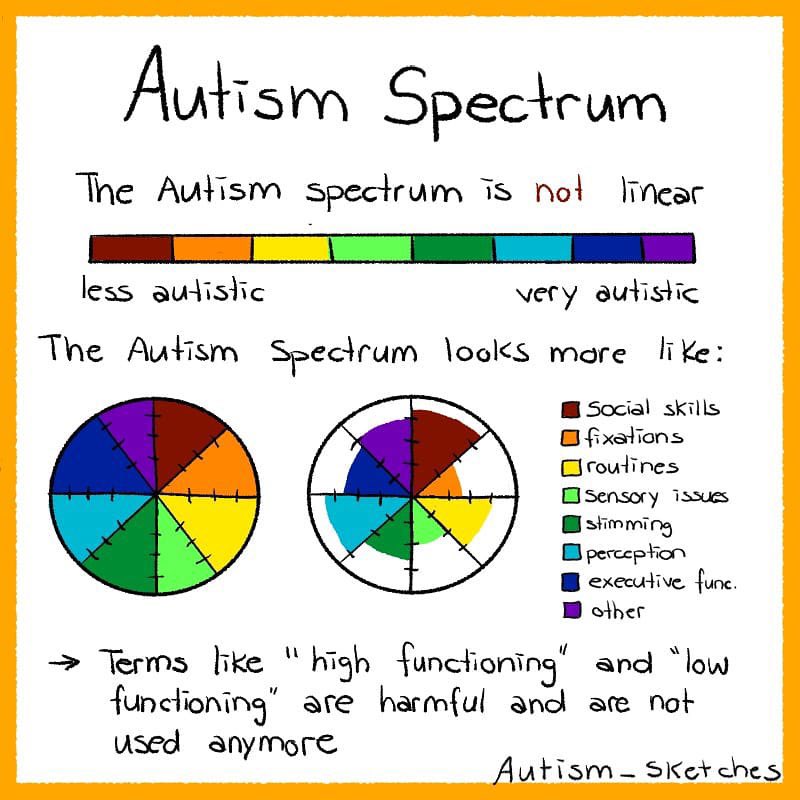 To help foster nerodiversity and advocate for better understanding, here are a few easy things to know and remember about Greyson and others with autism:
Autism and ASD is not a linear spectrum with more or less severity. Everyone's autism affects them and their families differently.
Stop using "high/low functioning" as labels. I've learned this year that it's harmful and misleading.
Autism is not something someone needs to be "cured" of or will "outgrow", rather it's a part of who a person is (i.e. their neuro-biology) and therefore needs to be accepted among our greater society.
Stimming (or repetitive movement or noises) is a natural way for autistic children to self-soothe and cope with overwhelming situations. Their stim is just a way for them to express their emotions.
Not all people with autism stim.
A person's ability isn't determined by whether they can speak or not.
Just because they don't give you eye contact doesn't mean they're not listening to you. So, please be mindful of what you say – especially if you're talking about that person around them.
Easy ways you can be better this month
First, just try to educate yourself about autism – it's not our responsibility (i.e. parents or the autism community) to teach you everything.
Be inclusive of all people despite their outward behavior (i.e. social awkwardness, eye contact, stimming, etc.)
Refrain from staring or having obvious whispers to your friends/spouse when you see a family with an autistic child or when that child is having a meltdown. As parents, we see you and it's hurtful.
Have open discussions with your own children about autism acceptance and teach them how to be more inclusive (at school, on a sports team, on the playground, etc.).
It's on all of us to help change public perceptions of autism and in these seemingly small ways lend themselves to the larger issue. I couldn't encourage you more, not just for my son but the many others out there, to simply be inclusive in all the ways you can. Teach it, live it, and hopefully within my son's lifetime there will be greater understanding and acceptance.
You can read our personal stories about life with Greyson below: