Valentine's Day isn't a favorite holiday for everyone…hell, we don't even officially celebrate it. Instead, we always make it an intentional part of our every day to think of one another and gift as we feel inspired. By doing so it not only just becomes a rhythm to love one another each day, but it takes the pressure off when holidays like Valentine's pops up.
With that in mind, and knowing this time of year is when everyone has gifting on their minds, the lettering shop is stocked with a variety of ways you can love on your loved ones in a way that's meaningful.
One such way is having your wedding vows handlettered as a print for you to display in your home!
Handlettered Vows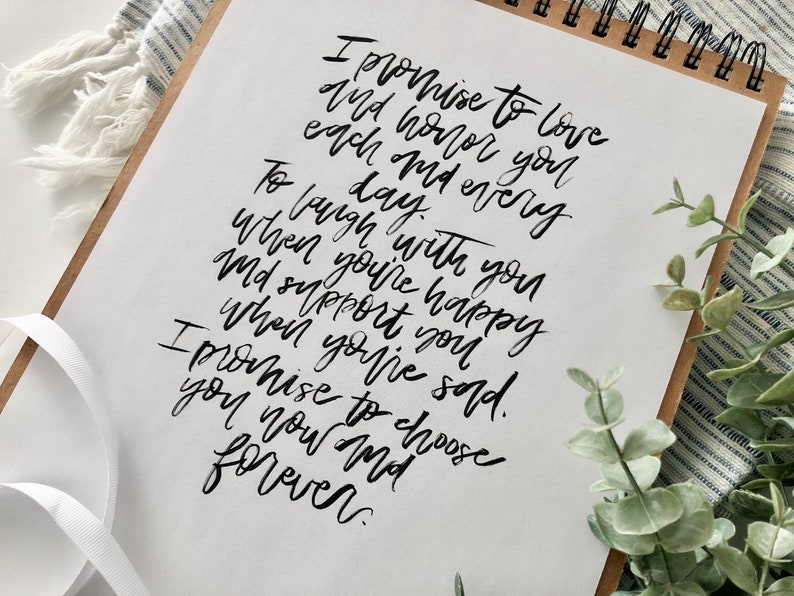 Your vows are promises made to your partner – not ensuring perfection, but recognizing the work-in-progress you both are and choosing each other despite the circumstances that may arise. These vows are sacred within any marriage and deserve to be on display as daily reminders of those promises.
Turning ones vows into prints and displaying them have been a recent trend that I, for one, absolutely love. It allows the words to become an active part in your new life together and not just another item from your ceremony that gets packed away in a box for 20 years.
How to Order
Ordering your wedding vow prints are so easy!
Simply head on over to the listing to take peek at what you'll receive and choose between a physical print, which will be mailed to you, or a digital print that will be formatted into a PDF for instant download. Both are formatted for traditional sized paper, but of course if you need a larger size we can discuss prior to you placing your order.
You may also choose between:
1 print (if your vows are the same)
set of 2 (typically for you and your spouse if your vows differ)
Want a more instant way to display your vows?
Wedding Vow Printable (editable!)
I also have this editable print version where you can add your own custom text directly in the PDF and print! Simply download the template and open in any PDF reader (I recommend Adobe), add your vows and wedding details, print, and display!