Affiliate links are used within this post. You can read my full disclosure here.
I think 2020 has scarred us all. I mean, it was supposed to be this exciting new decade in which we all carpe diemed our way to better versions of ourselves. But, just like Gatsby, it ended in tragedy and disappointment.
Looking back on a year that was has me continuing to press on and think about the goals I'd like to work towards in 2021. It can be so easy for us to get stuck in the mindset of "what's the point?" especially as we continue to navigate the pandemic and somehow find our footing again.
However, it's also equally important that we rebuild our sense of resiliency and with that in mind, this is my chosen word for this year.
RESILIENCY – the ability to recover or adjust; to spring back

Merriam-Webster
The 7 Skills of Resilience
According to Psychology Today, there are 7 skills associated with our ability to cope and build resilience in the face of hardship – such as the Covid-era we're currently living through. These skills have helped me not only build the framework for the goals I've set for myself, but inspired the year I aspire to have. My hope is that I can look back on this post at the end of the year and not only achieve some of the goals I've set for myself, but more importantly, achieve a better sense of resilience in the process of it all.
cultivate a belief in your ability to cope
stay connected with sources of support
communicate
be helpful to others
activate positive emotion
cultivate an attitude of survivorship
seek meaning
* Side Note: a book I found to be profoundly helpful during a particularly difficult time in my life was The Power of Meaning by Emily Esfahani Smith. I somehow misplaced it and it would be an amazing re-read for skill #7.
20 in 2021
Goal setting can be a pretty intimidating task, but since last year I've developed a more keen approach…being more realistic and specific. Ever since I adjusted my approach to goal setting I've discovered a newfound sense of accomplishment. When it comes to my own goals, I try to fit them into a balance of short and long term and have a focus on the main areas of self-care: physical, emotional, spiritual, intellectual, social, and financial. When I think of those areas, and areas I want to improve, I can begin to think more clearly about what I want to accomplish.
So, keeping the theme of resilience in mind this year, here are my realistic goals for 2021…
pay off one (or both) car loans
consistently put into savings
finish reading The Goldfinch (and watch the movie!)
have at least 1 date night with the hubs each month
watch Casablanca (still haven't seen it)
learn to make homemade tortillas
continue with my French lessons (Duolingo is the best!)
make self-care a priority (i.e. going for walks, simplifying my schedule, etc.)
accept help more freely
take more pictures with me in them
give myself grace as we welcome Olivia into our family
lean into the uncomfortable things
volunteer or donate to local organizations
spend quality time with girlfriends (covid-friendly, of course)
explore around San Antonio/Texas more
start my backyard homestead/garden (and keep said plants alive)
commit to living healthier in 2021 (water, sleep, etc.)
commit to creativity and add more products to the shop
commit to this space, but keep it fun, engaging and worthwhile
maintain healthy relationships/boundaries
To help me map out these goals and how I can best go about them I use this helpful tool:
Goal Getter 2021 Journal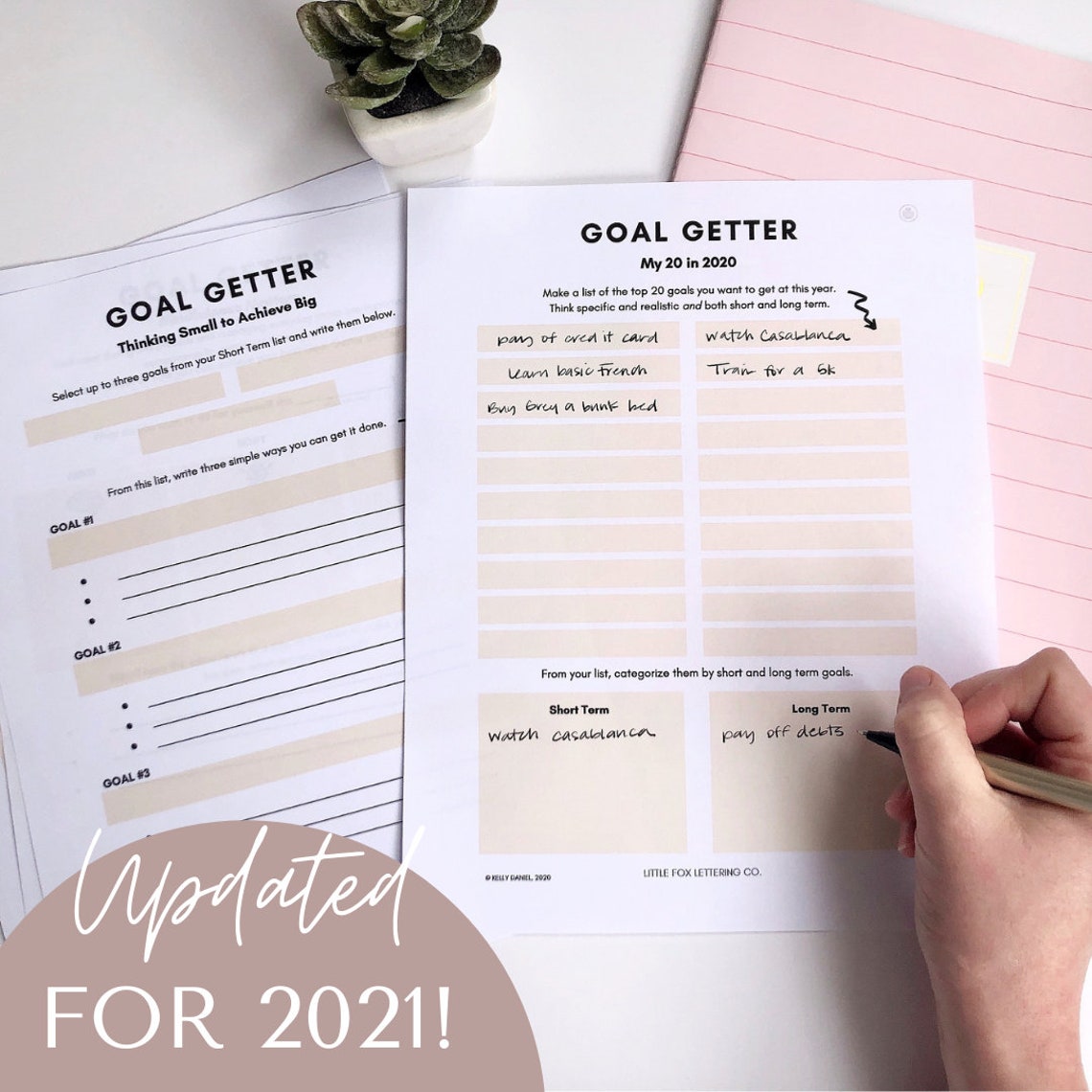 One of the ways that I work through my yearly goals is by using my Goal Getter journal. I created this helpful e-journal last year to help me see and break down my long and short-term goals and make them more achievable. By breaking them down and thinking of ways to get them done, I found myself really making headway.
You can snag your own printable journal here and stay on track all year long!
What goals are you setting for yourself this year? Is there 1 word you're inspired by for 2021?