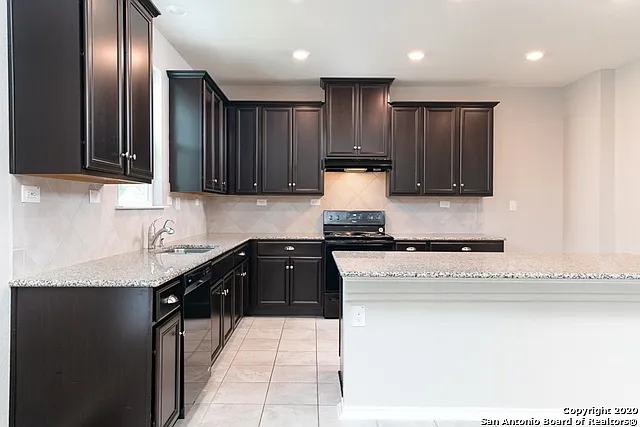 Our move to our first home is finally upon us and I couldn't be more excited to open the doors for the first time. The anticipation of having my husband, dog, and son run through the house, checking out each room, is so real. There's something special about owning your first home – especially during an economic climate like ours in 2020 – and checking a mental adulting box that we otherwise wouldn't have been able to do. I recognize how blessed we are, in so many ways, but owning our very own home takes the top spot on that list.
Leading up to this moment has been a lot of thought put into how I'd make our new house feel like our home. Pinterest has been my best friend as I cultivate an aesthetic that fits our growing family and I'm very thankful to all of those home furnishing companies out there who have had aaamazing sales and in the process has taken all of my money.
The goal for our kitchen and dining room is to be a space for gathering and entertaining. I love how open the kitchen is to the dining and living room, making it a wonderful place to have friends and family over and easily move throughout.
Now that my son and I are officially in Texas (the hubs is packing up and driving the truck) and we're just days away from settling in, I thought to share my inspirations and purchases for our new home – most specifically our kitchen.
Espresso Machine
One of the big purchases we just made (thanks Pre-Black Friday deals!) that wasn't furniture was this Breville Barista Express espresso machine from Williams-Sonoma. Where it's normally priced at over $1,000 it's now on sale for almost half that – at $599! I've always wanted to invest in a proper coffee/espresso machine since it's a staple in our home year-round. Better yet, through Affirm you can pay in installments with 0% APR.

Bar Stools
Our new kitchen comes with an island, which will be perfect for food prep and give Greyson (and soon-to-be Olivia) a place to have snacks, sit, do work, etc. There's enough room on the end of the island for bar stools and I found these at Wayfair during their Way-Day Sale. It's a set of 2, which is perfect, and I love that it comes highly reviewed and the seat back will be great for use with kids (we love those strap-on high chairs).

Pantry Organization
You guys, we'll officially have a pantry in our house! Having been apartment living for so long I can't wait to have a space dedicated to those pantry items we always stock up on!

I just love the way this pantry is organized from the neutral accents from the weaved storage bins to the clear food storage containers. Another item I can't wait to make are these minimalist pantry labels. The have such a classic look and help keep the pantry functioning in top order.

Wooden Table + Black Chairs
Another set of great finds from Joss & Main (Wayfair sister-brand) have been our wooden dining table (out of stock, but check out this similar table) and these set of black chairs. The chairs come in a set of 2 and the black is perfect.

Tableware
We've been using the same mix of dinnerware for ages and with our new home and new kitchen comes new tableware pieces. I've always loved the classic look of Crate & Barrel and found myself ordering a few new pieces for our kitchen:
C&B has a wide variety of dinnerware and tableware options to choose from and will always be my go-to place for affordable, but quality, items – especially for the kitchen.
Another favorite of mine are these Natural Rattan chargers for the holiday table setting!
A house into a home
The holidays will soon be upon us and thankfully I've been able to pull some things together in the meantime as we begin to unpack and get settled. I know it'll take us some time before our home gets to the place where it truly feels ours, but this is a wonderful beginning step.
Do you have any advice for this first time homeowner? What could I expect within the first year? What has been your experiences?